Packaging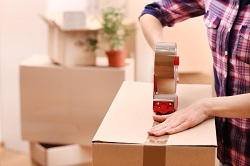 Most people living and working in West Wimbledon are too busy to get everything ready for moving day, and going into a move unprepared isn't something you forget in a hurry. Moving is a stressful process and to make sure that it all goes to plan, you're best off asking West Wimbledon Removals for help packing everything up. Our company can come to you on moving day, or before if you feel it necessary, to pack everything for you and make sure that everything is ready. We will happily come to you and do a "stock-check" which will enable us to bring the right kind of equipment and supplies and the correct number of workers to help you get everything ready for your move.

Our company offers all the materials you could possibly need, which means that you don't have to go out and buy anything in advance of our arrival! We can always bring boxes for your books, CDs, ornaments and kitchen supplies, bubble wrap to protect the china cups in your tea cabinet and the picture frames your mum bought you, wrapping paper to make sure that your television screens and coffee tables don't get scratched or stained, padding for fragile items, tape to bind everything together, temporary wardrobes for you to hang up your dresses, suits and fancy shirts and covers for all your furniture, which ensures that your upholstery, sofas and mattresses are protected from any intrusion during transit.

Our workers will complete all of this for you on moving day or before, and we will label everything clearly, before depositing it in the room you want it to be in when we get you there. Our packing services save you a huge amount of stress and hassle and because our movers are so thorough and careful with your belongings, there is very little risk of anything going wrong on moving day!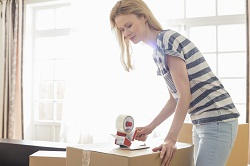 When it is time for your move, you may also be worried about what will happen to your furniture. Most of us live in houses and work in offices with narrow stairways and doorframes that aren't as wide as the sofas, beds, pianos and dining tables, and getting them in and out of a property is no mean feat. Having to leave something behind just doesn't bear thinking about and if you are moving on your own, that is a very real risk if you don't know what you are doing. If you contact West Wimbledon Removals you will find that not only are our removal workers very adept at manoeuvring items in and out of doorways, but we can also safely take apart and rebuild furniture items when we get you to your destination!

Our removal vans are clean and tidy and come complete with carpets, mats and satellite navigation systems so that everything runs smoothly and that all your belongings are well protected and packed. We will always make sure that everything is stacked in the safest possible manner and we use a number of techniques to minimise the chances of movement whilst the removal van delivers everything. We use trolleys and carts to help everything move from the lorry to the house and vice versa, and there is a ramp with every vehicle to make sure that everything can be loaded safely.

So, rest assured, your belongings are in safe hands when you work with us! Not only are we careful, considerate and efficient, but our removal lorries are fully insured and this is included in the cost of any quote we give you. To make your booking call on 020 8746 9657.